Eric Nelson,
Microsoft UK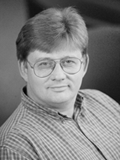 After many years of developing on UNIX/RDBMS (and being able to get mortgages) Eric joined Microsoft in 1996 as a Technical Evangelist (and stopped being able to get mortgages due to his new 'unusual job title' in the words of his bank manager).
He has spent most of his time working with ISVs to help them architect solutions which make use of the latest Microsoft technologies - from the beta of ASP 1.0 through to ASP.NET, from MTS to WCF/WF and from the beta of SQL Server 6.5 through to SQL Server 2008. Along the way he has met lots of smart and fun developers - and been completely stumped by many of their questions!
In July 2008 he switched role from an Application Architect to a Developer Evangelist in the Developer and Platform Group. Currently Eric's interests include digging into LINQ to Entities, ADO.NET Data Services and switching from C# to Visual Basic development.
At home, he battles rat infestations, comes second to the family dog and uses any spare moments he has after 10pm to team up and play online with and against friends - keep an eye out for 'erknel' and say 'hi'.
Blog: http://geekswithblogs.net/iupdateable