QCon is a practitioner-driven conference designed for technical team leads, architects, and project managers who influence software innovation in their teams.
Track Host Interview - John T Davies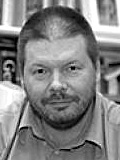 The 7th annual QCon London takes place March 4-8, 2013. QCon is an enterprise software development conference for team leads, architects, and project managers covering Architecture & Design, Java, Emerging Languages, NoSQL, Big Data, JavaScript & HTML5, Mobile Development, Software Craftsmanship, SOA, Agile methodologies and other timely topics. The 3 day conference will feature at least 15 concurrent tracks.
We have asked John T Davies, CTO and Founder of Incept5, the track host of the Finance, Technology & Implementation track at QCon London and also one of our speakers, to share with us some of his thoughts on the conference and his track.
1. Can you tell us a little bit about yourself and your track?
I've spent almost 30 years working in financial services, I was hooked by the buzz of working on the foreign exchange trading desks straight out of university and I've not looked back since. I've run entire trading floors, global architecture at banks and created and sold a few companies along the way. I still write code, mostly Java but also a little Scala and C++, mostly prototyping though.
The track is designed to be specifically around Financial Services technology, the sort that we find in London, investment banking. One thing I found frustrating while working in banks was vendors pitching their technology who had no idea what we do, they'd proudly refer to reference accounts in industries that has no similarity what-so-ever to the world we work in in the banks. The speakers in this track then either work in banks or work with banks, the speakers are financial services savvy.
2. What is your "vision" for your track? What do you want people to get out of it?
I'd personally like everyone to walk-away having learnt something, picked up new ideas, new confidence in ideas they already had, heard from people who've already done what they're thinking of doing. My vision is for people to walk out of the track filled with enthusiasm to code, design or architect new solutions.
3. Apart from your track, of course, what else are you looking forward to at QCon London this year?
My favourite part of QCon is meeting friends who I've not seen since the last conference, people who I've known for years and only get to see every few months in San Francisco, New York, Tokyo, London etc. I love the evenings talking about technology over beers and getting tips on new libraries, apps and ways of doing things, it's the highlight of the season.
QCon London will feature over 100 speakers presenting more than 80 presentations across 15 tracks. Last year's event was completely sold out with over 1,200 attendees. Register before March 1st and save up to £120.
QCon London is co-produced by InfoQ and Trifork - creator of the GOTO conference.