QCon is a practitioner-driven conference designed for technical team leads, architects, and project managers who influence software innovation in their teams.
Alex Batlin, Tweet
Director in UBS's Technology Innovation, Research & Development Team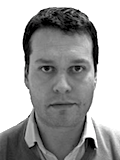 Alex Batlin is a Director in UBS's technology innovation, research and development team covering emerging and trending technology topics like big data analytics, social media, cloud and mobile computing, unified communication, content and collaboration, and post-PC consumer BYOD enterprise architecture.
He previously managed support, development, engineering and consultancy teams made up of permanent, outsourced and contract resources, delivering entire bank's on premise developer and software distribution SDLC services.
He has hands-on experience of software development in Ruby on Rails, Perl, Java, Objective C and C#, running support teams using ITIL principles, managing development projects using Scrum and PRINCE 2, and setting up outsourcing initiatives and negotiating both resource augmentation and fixed price contracts.
Past: Prior to joining UBS, Alex has worked at Nomura, JPMorgan and CSC.
Education: He has a degree in Computer Science from University of Bristol.
Twitter: @AlexBatlin
So you think your mobile is safe? We'll explore the challenges we are currently facing with maintaining the security of mobile apps and the approach to how we develop secure mobile applications. This session will also take a look at the enterprise implications with the push for employees to use their own devices while protecting corporate data and services on untrusted devices.