QCon is a practitioner-driven conference designed for technical team leads, architects, and project managers who influence software innovation in their teams.
Ashwani Roy, Tweet
Masters in Finance at London Business School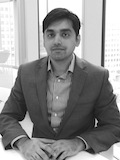 Ashwani Roy has about 10 years of experience in programming and software architecture out of which 5 years are with various investments in areas like risk computation, pricing and PnL reporting. He is also a Master in Finance student at London Business School and a speaker in software conference like PASS and SQL Bits. He loves programming, mathematics and applications in Finance and is proficient in C#, F#, SQL Server, Clojure and Sybase. His interests include analysis of large data sets, time series analysis and forecasting modelling, stochastic calculus and he has been involved with application of Hadoop and Hive in finance industry for the last 2 years.
Twitter: @Ashwani_Roy
We will be talking about a robust, cost effective, hypothetical solution to address extreme challenges in big financial institutions, from decision making support to pricing and risk management, including storing, processing, analysing real-time and historical unstructured, semi-structured and structured data found in all investment banks and commodity trading houses, i.e. time series market data, orders/trades, risk metrics. This is to demonstrate how emerging technologies can play a strategic role in your enterprise data and BI architecture.
#Hadoop #HBase #GraphDB #TwitterStorm #Solr #Lucene #Lily #MDX #Clojure #R #Variety #Velocity #Volume