QCon is a practitioner-driven conference designed for technical team leads, architects, and project managers who influence software innovation in their teams.
Damien Dallimore, Tweet
Developer Evangelist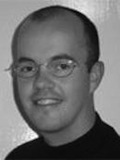 I am a Developer Evangelist at Splunk. Basically this means that I'm really passionate about building big data apps, tools and frameworks for the Splunk platform and then engaging with the developer community to educate about the many different ways that Splunk can be developed upon.Prior to joining Splunk I spent the bulk of my career cutting code and architecting solutions for many different industry verticals around the world. My core background is computer science, and my driving ethos is simplicity, open standards & community collaboration.I also play rugby union, scuba dive whenever possible and can hold my own in a blues guitar jam.
Twitter: @damiendallimore
What does exploring through dark caves (spelunking) and app development have in common? Turns out, quite a bit. Historically, it has been challenging to find a lightweight integrated solution that provides the illumination into how your apps are behaving. In this session, we'll use Splunk and our Java SDK as a frame of reference to explore getting better insights into your applications and how you can build compelling big data applications today.We'll also cover some cool ways you can monitor your JVM infrastructures and integrate with the Spring framework.