QCon is a practitioner-driven conference designed for technical team leads, architects, and project managers who influence software innovation in their teams.
David Rogers, Tweet
Senior Technical Architect in BBC Future Media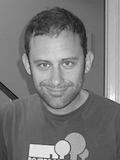 David Rogers is Senior Technical Architect in BBC Future Media (News & Knowledge). Previously technical lead for the BBC 2012 Olympic Data project which provided the semantic and statistical data for the range of digital products produced by the BBC for the London 2012 games, he is now focused on BBC content APIs, including the BBC's Linked Data Platform.
Twitter: @daverog
The BBC's Olympics 2012 digital services were built on a foundation of linked and statistical data, allowing iPlayer, BBC sport, mobile apps and data-enriched video feeds to be seamlessly connected around the concepts of the games: athletes, venues, sports, events and countries. The legacy of these approaches is the BBC's Linked Data Platform, a platform that places linked data at the heart of our digital services. This talk will outline how a highly-scalable RDF and SPARQL-based API was delivered, how a graph of highly-connected data can be managed effectively across a large organisation, and our plans to open up access to the BBC's data from Bitesize learning resources, to the Radio 4 archive.