QCon is a practitioner-driven conference designed for technical team leads, architects, and project managers who influence software innovation in their teams.
Fernando Orellana, Tweet
Associate Professor of Digital Art at Union College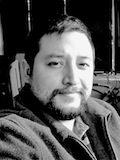 Currently an Associate Professor of Digital Art at Union College in Schenectady, NY, Fernando Orellana uses new and traditional media as a way of transmitting concepts that range from generative art to social-political commentary. Born in El Salvador, San Salvador, Fernando holds an MFA from Ohio State University and has exhibited his work internationally, including the Museum of Contemporary Art in Barcelona and Exit Art and The Tang Museum of Art in New York.
Twitter: @polyfluid
Website: fernandoorellana.com
From robots that print sculptures, to extruders that birth Play-Doh populations, to machines that make their own drawings, Fernando Orellana has collaborated with robots for over twenty years to make artwork. As a machine designer, a technologist and a user, Orellana has blurred the line between himself and machine in the creative process. The imagery and narrative that Orellana and his robots explore spans a spectrum from the generatively-made to the subconsciously-driven. This talk will cover his walk through this "automatous symbiosis," with a conversation of the various artworks that have been output along the way.