QCon is a practitioner-driven conference designed for technical team leads, architects, and project managers who influence software innovation in their teams.
John O'Hara, Tweet
CEO Taskize Ltd.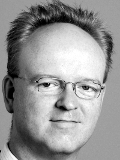 John O'Hara is an established innovator in financial services technology. He has 20 years experience delivering technology solutions across all banking asset classes and their associated business processes. Founder of Taskize, a consulting and software firm, John was previously a J. P. Morgan Distinguished Engineer and held leadership positions at both J. P. Morgan Chase and Bank of America Merrill Lynch. He was instrumental in creating industry-changing technologies including FpML and he invented AMQP messaging. John has written for publications as diverse as ACM, The Banker and Waters and spoken at events including QCon, Trading Architecture, FinExpo and Google Tech Talks.
Twitter: @johara_
Investment banks can be opaque and jargon-filled places even to the people who work there. For technologists it can be frustrating to only experience a fragment of the end-to-end technology of these multi-billion dollar organisations. John will show you exactly how a bank fits together from a business and technology point of view and challenges they still face. Including low-latency, high-frequency trading in in-memory caches, multi-terabyte time-series databases, complex contracts in NoSQL stores and advanced systems integration.