QCon is a practitioner-driven conference designed for technical team leads, architects, and project managers who influence software innovation in their teams.
Michael Nuciforo, Tweet
Global Mobile Thought Leader & Futurist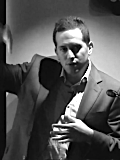 Michael is a global Mobile thought leader and futurist who was previously the Head of Mobile Banking at RBS. Prior to setting up his own business Keatan, Michael was responsible for delivering the UK's Number 1 Mobile banking service for iPhone, iPad, Android and BlackBerry across both RBS and NatWest brands. He now advises to some of Europe's largest banks and retailers on mobile strategy.
Before moving to London in 2010, Michael was responsible for the Mobile Banking service at the ANZ bank in Australia. During his time in the company he oversaw a number of strategic developments including the world renowned ANZ goMoney application that delivered a unique mobile number based person-to-person payments proposition.
The winner of six major industry awards and prolific author with popular industry publications and his own blog theboldwar.com, Michael is a regular speaker around Europe and the Middle East regarding the opportunities and threats of mobile technology.
With the pace of mobile banking innovation increasing exponentially, only the boldest of organisations will succeed. This presentation covers the recent history of mobile banking from SMS alerts to Java, then Web and Native apps. It highlights the major trends, key industry players, new consumer expectations and what this all means - make sure you bring along your crystal ball...