QCon is a practitioner-driven conference designed for technical team leads, architects, and project managers who influence software innovation in their teams.
Rain Ashford, Tweet
Freelance Consultant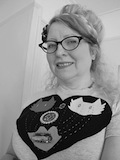 Rain Ashford is in her 2nd year of PhD research on the Art and Computational Technology program in the Department of Computing at Goldsmiths, University of London. Her work involves investigating sensing technologies and how these can be applied to the body in the form of garments and wearable artworks to measure and visualise mood, health and lifestyle data. She's interested in how our bodies unconsciously react to social situations in particular and the physiological signals we can track and visualise via data. Rain also creates fun, interactive and aesthetically pleasing artworks and wearables that include gaming and musical elements. She's keen to show that coding, electronics, components and circuitry doesn't have to be cold, boring, hard and sharp, that can be fun, colourful and elegant, and also can be part of an overall design that is interesting to the user. Rain uses a variety of materials and electronic components such as sensors to measure EEG (Electroencephalography), GSR (Galvanic Skin Response) heart rate, temperature, proximity, magnetic fields and movement, and C programming language.
Rain is a freelance consultant for online learning projects, she also devises and teaches workshops in coding and electronics via e-textiles and wearable technology. Her background is in developing online learning activities for the BBC as Senior Producer at BBC Learning and Technologist at BBC R&D, where she co-ran BBC Backstage and Women in Technology network.
In recent years, interest in wearable technology has been steadily gaining momentum, having been given a boost by the popularity in lifestyle tracking devices and apps for smartphones. Industry big players have spotted the potential and started a race to snap up patents and create a lot of speculation about potential products that will possibly capture the attention of the mainstream and drive the future of wearable tech. Concurrently, artists, makers and designers have been pushing the boundaries of the body, in the form of bespoke wearables using electronics such as sensors, actuators and microcontrollers. This presentation will take a brief look how wearable technology has emerged from its early roots in cybernetics and sci-fi and how projects are developing outside the current bubble of media hyperbole.