QCon is a practitioner-driven conference designed for technical team leads, architects, and project managers who influence software innovation in their teams.
Richard Garsthagen, Tweet
Director of Cloud Business Development at Oracle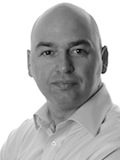 Richard Garsthagen is the Director of Cloud Business Development for Oracle. He is responsible for positioning Oracle's Cloud Computing products and Public Cloud services throughout Europe.
With over 15 years experience working for high tech companies including Citrix and VMware, Richard has gained an extensive knowledge of Virtualization and Cloud Computing Solutions available today. His deep technical knowledge and enthusiasm for Cloud Computing enables him to clearly promote the Oracle Cloud Solutions to a broad audience daily.
Twitter: @the_anykey
Today's developers want platforms that make innovation faster, less complex, and more efficient. Join this session for an overview of Oracle Cloud's enterprise grade, open standards-based platform services. Learn how you can transform the development experience and quickly build applications in the cloud using the tools and techniques developers love and already use today.