QCon is a practitioner-driven conference designed for technical team leads, architects, and project managers who influence software innovation in their teams.
Rob Strange, Tweet
CTO, Sphonic.com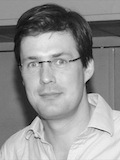 Rob started his career in the Army leaving in 2007, moving from there to a small consultancy delivering solutions to support, among others the UK MOD, at an operational and strategic level.
Recently as the CTO of Sphonic he has been focused on delivering a market leading solution focus on anti fraud market, supporting merchants manage the risk of Cardholder / Card not present transactions, delivering high volume low latency tx using a raft of new technologies.
He has keen interest in finding the right technology more recently this is focused on Cassandra, Scala and Mongo with a bit of Rails and Postgresql.
Track:
Real Startups
/
Time: Wednesday 10:20 - 11:10
/
Location: Elizabeth Windsor
The talk recounts the journey and relationship of a Tech start-up and its software development partner, with the milestones and millstones (but no tombstones) along the way:
The Technology Trigger and the helter-skelter ride up the slope of enlightenment, and down into the trough of sorrow;
Frequent releases of improvement, minimum feature sets and MVP (ideas to code to data);
Wiggles and pivots into continuous deployment and business model testing;
Customer acquisition and validated learning (build-measure-learn);
The dark-arts of innovation accounting and risk-based pay-as-you-go investment models.
Framing the technology bet, the business and financial risk together and how to avoid the arms race to out-innovate and out-spend everyone, the talk outlines the challenges faced, the learning and the success of the journey, and a take-away based on the premise that you can't do innovation sat behind a desk.