QCon is a practitioner-driven conference designed for technical team leads, architects, and project managers who influence software innovation in their teams.
Robbie Clutton, Tweet
Software Engineer & General Geek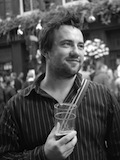 Robbie has been making phones ring, building clouds and making websites since 2005. He has been fortunate enough to have been practicing agile that whole time and moved to New York from London to join consultancy Pivotal Labs in early 2012 working with Rails and Javascript.
Twitter: @robb1e
Speaker's photo belongs to Phil Hawksworth.
We will look at the sort of problems startups face and how that affects the applications those companies create. We will cover tools which can assist with technical decisions and look at what a maintainable product and business might look like. We will also discuss some decisions made by companies in an effort to scale and grow and reflect on the successes of those decisions.
Learnings: Attendees will learn how to lean into tools to help them in delaying decisions, discover the important aspects to take away for any web application and why they should embrace 'waiting trumps guessing every time'.