QCon is a practitioner-driven conference designed for technical team leads, architects, and project managers who influence software innovation in their teams.
Tom Coupland, Tweet
Senior Engineer at Nokia Entertainment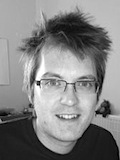 Tom Coupland is a Senior Engineer at Nokia Entertainment Bristol. Having worked with transaction processing monoliths, producing one of his own, he's now enjoying the world of SOA and the freedoms it can bring. After years of Java, he set out to find more productive and elegant tools, currently very much enjoying spending time with Clojure. When not trying to make his bit of the world of software a better place, he can be found out in the real one, running, preferably in the mud, wind and rain.
Twitter: @tcoupland
After frustrations with a typical Java stack (Maven, EJB3, Hibernate, MySQL) a group of self driven developers set out to break free from the overly complex, verbose nightmare of XML, containers, DetachedEntityExceptions and rigid schemas. This talk will touch on the various technologies investigated, and in many cases deployed, on our journey. We've taken in quite a few, from Gradle and Spring, to MongoDB and Clojure. Come hear about why we chose what we did and how we got them off the ground.