QCon is a practitioner-driven conference designed for technical team leads, architects, and project managers who influence software innovation in their teams.
Tom Levey, Tweet
Technology Evangelist at AppDynamics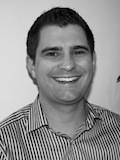 Tom Levey is a Technology Evangelist at AppDynamics. Tom is responsible for promoting best practices of application performance management (APM) for distributed applications running in cloud, virtual and physical environments.
Tom has spent 6 years helping organisations to build robust APM technology strategies and has the scars to show for it. He received his BSC in Computer Science and after working as a Java application developer he decided someone really needed to help the world optimise the performance of their applications!
Delivering fast, rich, engaging experiences across an increasing variety of mobile devices, networks, and locations is a complex challenge. All too often performance issues go unidentified due to a lack of visibility into the true end user experience and a simple way to identify the root cause - is it the mobile device, carrier, 3rd-party, back-end infrastructure or application logic that is the problem?
Join Tom Levey in this session, to discuss not only how to effectively monitor the end user experience and identify performance bottlenecks, but also measure the real-time revenue impact, by turning on the lights inside your mobile app.