QCon is a practitioner-driven conference designed for technical team leads, architects, and project managers who influence software innovation in their teams.
Kevin Korngut, Tweet
Officer for the Spoon Project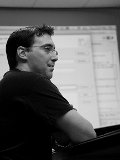 Kevin Korngut develops applications for various enterprise clients as a Developer with Miller & Associates in Dallas, Texas. As a member of the Flash Community he is the Dallas Flex UGM, D-Flex, and an officer for the Spoon Project.
Adobe AIR is a cross-platform runtime environment developed by Adobe Systems for building applications which can be run on various desktop and mobile platforms. Utilizing Adobe AIR developers can take advantage of mature development tools, a powerful open source component framework with a vibrant community and can deploy their applications across platforms and markets.