QCon is a practitioner-driven conference designed for technical team leads, architects, and project managers who influence software innovation in their teams.
Sam Hamilton, Tweet
Chief Technology Officer at Shopping.com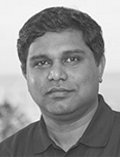 As CTO of Shopping.com, Sam Hamilton oversees all technology platforms, including research, architecture, engineering and operations. Sam joined Shopping.com in August 2008 and came from Yahoo where he served as Vice President of Engineering, Ad Systems. He was responsible for the architecture, development, QA and operations of Yahoo's Graphical Ad Systems. Prior to Yahoo, Sam was the VP of Engineering at Selectica where he directed Applications and Operations. Before joining Selectica in 2000, Sam held a variety of engineering and management positions with Menlo Park, California-based Informix Software, Inc., including director of Informix's Web Technology Group and Senior Manager of Research and Development.
Sam holds a Master in Computer Science and has over 20 years of experience in development and delivery of enterprise and hosted software and online systems.
Hyper growth, or even slow steady growth over time, present challenges with scaling and sustaining the technology stacks. In most successful enterprises, yesterday's technology stacks drive today's businesses. They often do not meet stakeholder's expectations and limiting further growth. The need for building a new and futuristic technology stack is prevalent but the challenge is building such system while supporting/delivering on the current commitments. This not only requires parallel development (leapfrogging the current system in capabilities) but also requires smart migration of the business to the new stacks when completed. In this session, we will discuss the implications of choices in technology, architecture, and organization for building the new stacks and a few suggestions for defining success criteria and tracking.