QCon is a practitioner-driven conference designed for technical team leads, architects, and project managers who influence software innovation in their teams.
Toby Weston, Tweet
Head of Mobile Engineering Credit Suisse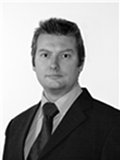 Toby has been working in IT since the mid 90's. During his career he has worked on a diverse set of interesting projects - ranging from the development of secure hardware for the security services, to founding a Search Engine startup during the dot com era. Working in major corporations with large development teams constantly in flux has created an understanding of the importance of clear communication, sound design and simple concepts. Toby holds degrees in Biology, Software Engineering and Artificial Intelligence. He currently heads the Mobile Solutions team at Credit-Suisse.
Change happens. For Credit-Suisse IT, Mobile Computing is its latest manifestation. This talk will take a whirlwind tour through the history of client banking applications at Credit Suisse, and show how a commitment to Architecture and the 'big picture' enables one large company to embrace change and deliver secure, future proof solutions to our customers. Technical focus will be on client and server side architectures for enabling development of secure, reusable, functional and framework, components