QCon is a practitioner-driven conference designed for technical team leads, architects, and project managers who influence software innovation in their teams.
Tomas Petricek, Tweet
Author of a book Real-World Functional Programming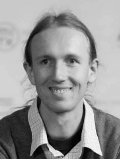 Tomas is a Microsoft MVP, long-time F# enthusiast and author of a book Real-World Functional Programming (
http://manning.com/petricek
) which explains functional programming concepts using C# 3.0 teaching F# alongside. He writes a programming blog (
http://tomasp.net/blog
) and is an active member of the F#unctional Londoners group. Together with Phil Trelford, he leads functional programming and F# courses in London and New York. He contributed to the development of F# during two internships at Microsoft Research in Cambridge. Before starting PhD at Cambridge, he studied in Prague and worked as an independent .NET consultant.
Asynchronous workflows have been one of the killer features of F#. With await and async keywords in C# 5.0 and similar features in Dart, the language support for asynchrony is becoming a must have. It is the key to writing scalable server-side applications that do not block a thread for each concurrent request, but also to writing responsive user-interfaces that do not hang when calling a service or performing background computation.
In this talk, we look how to effectively use F# asynchronous workflows on both sides of a client/server application. On the server-side, we can naturally express the communication without using callbacks, while keeping the scalability of event-driven code. On the client-side, we get a powerful way of expressing state-machines behind user interaction, without the inversion of control and the use of mutable state. Thanks to the Pit project, we will also be able to deploy the client-side as a JavaScript application.