QCon is a practitioner-driven conference designed for technical team leads, architects, and project managers who influence software innovation in their teams.
Andrew Elmore, Tweet
Head of Development at C24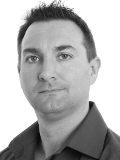 Andrew Elmore is Head of Development at C24, a provider of financial services messaging software to many of the world's largest financial institutions. Prior to joining C24, Andrew built and managed the front & middle office systems at a Mastercard-owned credit card issuer & processor, led the development of numerous products at SmartStream Technologies and worked on a number of highly scalable systems including PitneyBowes' Portrait suite & British Telecom's call-routing software.
Andrew is a Chartered Engineer & Chartered IT Practitioner and holds a BEng in Computer Science & Electronics from the University of Edinburgh, UK.
Twitter: @andrew_elmore
NoSQL stores and Grids address one of the key problems with relational databases - how to flexibly store multiple types of highly complex messages in a way that facilitates downstream processing. Adopting the right storage structure remains essential, as it enables a homogeneous approach to data access and efficient processing at massive scale. Learn how major financial institutions are architecting their systems to support new services and ever increasing volumes.