QCon is a practitioner-driven conference designed for technical team leads, architects, and project managers who influence software innovation in their teams.
Andrew Godwin, Tweet
Writing shiny things for Lanyrd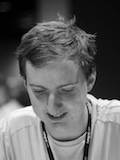 A web developer, systems administrator and technical architect, Andrew is a developer at Lanyrd as well as a core committer on the Django web framework and specialises in databases and visualisation. He is also a private pilot and archer in his spare time.
Twitter: @andrewgodwin
From humble beginnings on a Moroccan holiday in 2010, Lanyrd has gained complexity, many new features, and a lot of users. Learn how we grew our stack, the new technologies we tried (and sometimes ignored), some of the clever tricks you can pull as a content-heavy site, and some of the things we'd do differently if we could start afresh - as well as how a small team and rapid deployment helps us quickly adapt to any new problem we face.