QCon is a practitioner-driven conference designed for technical team leads, architects, and project managers who influence software innovation in their teams.
Gojko Adzic, Tweet
Strategic Software Delivery Consultant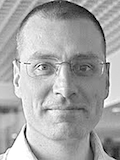 Gojko Adzic is a strategic software delivery consultant who works with ambitious teams to improve the quality of their software products and processes. He specialises in agile and lean quality improvement, in particular agile testing, specification by example and behaviour driven development. Gojko is the author of the Impact Mapping book. His previous book, Specification by Example, was awarded the #2 spot on the top 100 agile books for 2012 and won the Jolt Award for the best book of 2012. In 2011, he was voted by peers as the most influential agile testing professional, and his blog won the UK agile award for the best online publication in 2010.
Twitter: @gojkoadzic
Blog: gojko.net
Simply Business is the UK's largest online business insurance broker. Two years ago Simply Business started re-thinking their whole approach to testing and software quality, leading to many cultural shifts, mindsets that needed challenging and changing, and lots of tools named after vegetables. This session is an experience report about that journey. We'll talk about how the thinking around the role of tests and testing evolved, the problems the team faced and the decisions they took to overcome technical and cultural issues to pull business into testing. And of course the amazing results.
Track:
Training
/
Time: Monday 09:00 - 16:00
/
Location: Rutherford Room
The first principle from the Agile Manifesto states: "Our highest priority is to satisfy the customer through early and continuous delivery of valuable software." but how often do you capture the real value of what you're developing and delivering and use that to help prioritise your work?
In this tutorial, Russ Miles of SimplicityItself & Gojko Adzic of Neuri Consulting will teach how to practically apply Impact Mapping for just this challenge Impact Mapping is a strategic planning technique that prevents organisations from getting lost while building products and delivering projects by clearly communicating assumptions, helping teams align their activities with overall business objectives and make better roadmap decisions. Impact mapping can help you build products and deliver projects that make a valuable impact, not just ship software.
The participants of this interactive workshop will learn the practices of Impact Mapping and try it out in practice on several realistic examples to understand the key facilitation techniques and learn how to run and apply Impact Mapping sessions in their organisations.
Key learning points of this tutorial are:
how to create good user stories
how to ensure that you're building the right product
how to align the activities of delivery teams and the organisation around them
how to make an impact with software products and projects
how to communicate overall goals and vision to delivery teams
how to facilitate impact mapping sessions
how to build a delivery roadmap and backlog with impact maps
Keywords: product owner, business analyst, agile developers, agile testers, business stakeholders, impact mapping, specification by example, requirements, product backlog