QCon is a practitioner-driven conference designed for technical team leads, architects, and project managers who influence software innovation in their teams.
Rafiq Gemmail, Tweet
Dreamthought Technologies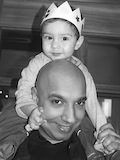 Raf is based in Cornwall, from where he runs Dreamthought Technologies Ltd, an Agile biased software consulting firm. He has worked as a software engineer for over thirteen years, developing enterprise solutions in the industries of investment banking, e-commerce, data-services, telecommunications and media. His client projects have included performance optimisation for the BBC's iPlayer and development of market reference data systems within ING and Morgan Stanley. He is currently on contract at Headforwards Ltd in Cornwall, developing cloud virtualisation software in a Kanban team by the sea.
Raf is a proponent for lean practices, TDD and home-schooling. He has soft spots for Modern Perl, Scala and node.js.
Twitter: @fiqus
Driven by desperation when agile methods didn't seem to work 'straight out of the box' - how a BBC team (handling a critical legacy back-end system with complex team inter-dependencies and a plethora of demanding 'priority one' stakeholders) collaborated themselves out of a severe crisis loop by bending the 'rules' and combining multiple agile and JFDI 'methods'.