During the pandemic Zoom had to scale massively to support the big move from working in the office every day to meeting online for both business and private use. How did Zoom manage this scaling dilemma? And when you join a Zoom call how does that actually work? Join us as Ian Sleebe will explain the Zoom meetings architecture and how Zoom dealt with the exponential growth of its platform. 
---
Speaker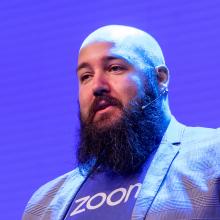 Ian Sleebe
Senior Solutions Architect @Zoom
Ian Sleebe is a Senior Solutions Architect at Zoom where he has been working for over 3.5 years, seeing the world change and more importantly seeing how people are changing how they work.
From working at a major ITSP building out a new platform and internal processes, while staying compliant to new legislation, to explaining security and privacy in the IT-space and helping people understand how technology can help them, Ian has a lot of experience helping companies all over the world, but especially in EMEA.
At Zoom, part of the Global Architecture team, Ian Sleebe helps many customers, discussing lots of subjects. From GDPR or other privacy-related questions to encryption architecture and IT governance, but also embedding Zoom into their application or deploying the Zoom client to all their users.
Read more
Find Ian Sleebe at: