QCon is a practitioner-driven conference designed for technical team leads, architects, and project managers who influence software innovation in their teams.
Martijn Verburg, Tweet
CTO of TeamSparq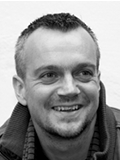 Martijn Verburg (aka 'the Diabolical Developer') is the CTO of TeamSparq, herds Cats in the Java/open source communities and is constantly humbled by the creative power to be found there. Currently he resides in London where he co-leads the London JUG (a JCP EC member), runs a couple of open source projects & drinks too much beer at his local pub. You can find him online moderating at the Javaranch or discussing (ranting about?) subjects on the Programmers Stack Exchange site. As the Diabolical Developer he delivers popular, highly controversial / thought provoking talks on Java, OSS and the latest fads at conferences such as FOSDEM, OSCON, JavaOne and QCon. Most recently, he has wrapped up his first Manning title - "The Well-Grounded Java Developer" with his co-author Ben Evans.
5 years ago, the cloud buzz featured animoto and Salesforce. Today, the "in cloud crowd" discuss Netflix, private clouds and PaaS. What will we be talking about in 2017?
In this panel session, a group of irreverent cloud providers, watchers and consumers will share their observations and predictions of where current cloud trends are heading. We'll recap developments in recent years to provide a reference point for discussing what cloud stacks, platforms and applications we will be using in the near future.
An audience Q&A session at the end of the talk (and hopefully in the bar later that day!) will provide an additional opportunity to help shape *your* cloud ecosystem vision.
Outsourcing is a well-known concept. Among managers it is well-know to save you money in software development, but among developers, it is a different story.
In this panel we will have people with case-studies in outsourcing, who are willing to share their do's and don'ts'. People, who has worked with and given advise on successful outsourcing software development, and who can share their experiences about the infrastructure required for effective multi-sourcing.