QCon is a practitioner-driven conference designed for technical team leads, architects, and project managers who influence software innovation in their teams.
Alyson Fielding, Tweet
Founder of Pyuda Ltd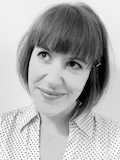 Alyson is interested in the intersection of the arts and technology. She works across storytelling, content and digital, exploring how technology can make magical experiences.
Since starting Pyuda Ltd, Alyson has managed digital projects for companies including the BBC, and has worked with digital agencies and publishers to adapt content for use on web and mobile. She was chief content wrangler for the QI app for iPhone and iPad, and adapted the content and storyline for the Malcolm Tucker app ­the first app ever to be nominated for a TV BAFTA.
She is currently working at the Government Digital Service.
Twitter: @alysonf
What do paper-bound books mean in an age of digital publishing?
Using Lilypad Arduino and an iPhone, a physical paper book has been remade as an enchanted, gesture-responsive object.
This talk is about exploring how mobile phones can combine with objects to create new interfaces, and how arts and technology together can make magical experiences for people.