QCon is a practitioner-driven conference designed for technical team leads, architects, and project managers who influence software innovation in their teams.
Jim Moores, Tweet
CTO & Co-Founder of OpenGamma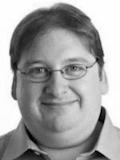 Jim Moores is the Chief Technology Officer and Co-Founder of OpenGamma. Prior to OpenGamma, Jim was head of software engineering for Smartspread, managing and extending the analytics and risk management platform for Vega Asset Management and ProximaAlfa. Previously, he founded Quickstone Technologies, an Angel-funded company that won a DTI SMART award for its code analysis tool and delivered several Java development tool products. Jim obtained his undergraduate and doctoral degrees in Computer Science from the University of Kent in Canterbury. As part of his PhD research into concurrent systems, he was responsible for major developments in the Occam programming language and runtime environment.
Twitter: @jim_moores
In the last 4 years, OpenGamma has grown from a concept to one of the largest capital markets technology startups in years. We've also gone from empty IDEs to over a million lines of Open Source code. Along the way we've learned a lot about fundraising, sales, marketing, community management, project management, architecture, and customer deployment. In this talk Kirk and Jim will go through what we've learned to handle massive market risk installations for some of the world's largest financial services firms with an open source code base and build a company along the way.