QCon is a practitioner-driven conference designed for technical team leads, architects, and project managers who influence software innovation in their teams.
Mo Ramezanpoor, Tweet
Lead Developer for Game "Zombies, Run!"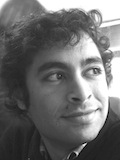 Mo is a software developer working mainly on iOS apps. Last year he joined Six to Start, where he is the lead developer for fitness game Zombies, Run!.
Mo has studied Astrophysics and has experience in writing data processing and simulation software. During his career he has helped to develop apps including Cambridge University Press's "Explore Shakespeare" app series as well as the Lovelace and Babbage comics app for the iPad.
Twitter: @mohsenr
There are many applications for tools that track a person's activities over a long period of time, for example to help them modify their habits for improve their fitness. However, such a tool would be much harder for people to adopt if the tracking is not done automatically. Specifically, manual entry makes the continued use of the tool less likely.
It is now possible to rely on the vast number of sensors available in smartphones to automatically track activities without any direct action on behalf of the owner. Still, limitations of the devices, such as limited battery life, makes developing of such a tool non-trivial. In my talk I discuss two activity tracking apps, "Zombies, Run!" and "The Walk", and how too apps with apparently similar functionality use completely different approaches for tracking user activity.