QCon is a practitioner-driven conference designed for technical team leads, architects, and project managers who influence software innovation in their teams.
David Laing, Tweet
R&D lab team lead at City Index.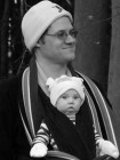 I love to build stuff. Well.
Fundamentally I'm a pragmatist; who gets his kicks from getting software built. I identify and implement whatever will advance a project; with a specific focus on technical skills and practises (TDD, CI, pair programming, clean code).
I'm plugged into most software communities; reading, listening and attending. I filter, focus and introduce techniques & technologies that will benefit my team.
I've recently become a father, and discovered I love being a family man. (Also that I can operate with almost no sleep, but that's another story...)
The mobile device revolution has upended our traditional view of the world wide web. The enterprise web is now about integration: connecting any device to to any data, reliably and under wildly fluctuating load. How has this affected web architecture, and what changes in the day-to-day operation of the web resource? Join us for this panel of senior enterprise architects, each of whom has met the challenge of the new enterprise web.