QCon is a practitioner-driven conference designed for technical team leads, architects, and project managers who influence software innovation in their teams.
Graham Lee, Tweet
Security Consultant, Author of "Professional Cocoa Application Security" & Track Host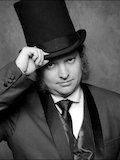 Graham Lee is a software engineer and instructor at Big Nerd Ranch, where he makes iOS, Android and Mac apps and helps other people to do the same. He is the author of three books, the most recent being APPropriate Behaviour.
Twitter: @secboffin
Track Host of "True Mobile & Beyond"
Time: Friday 08:30 - 09:00
/
Location: Fleming
The Program Committee and Track Hosts will present today's program, provide a short introduction to the Tracks scheduled, inform you about last minute changes to the schedule and general information.