QCon is a practitioner-driven conference designed for technical team leads, architects, and project managers who influence software innovation in their teams.
Hannah Dee, Tweet
Lecturer in Computer Science at Aberystwyth University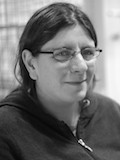 Hannah is a lecturer in computer science at Aberystwyth University, where she does research into computer vision and robotics whilst trying to teach undergraduates about web programming. She believes that computer science is an interesting and fun field for work, study and play... but that schools don't often manage to get that across. So she also spends a lot of time doing workshops with schoolkids and their families, and has run outreach computer science sessions involving artificial intelligence, wearable computing, arduino, robotics, scratch, video processing and mobile app development.
Twitter: @handee
This talk will describe our 'Android Programming Family Fun Day', a one day AppInventor workshop introducing kids and their parents to mobile phone programming. The impact of the workshop is high: kids go away realising that they can write stuff for the device in their pocket, and parents go away with ideas of things to do on rainy Saturdays. This talk will convince you that running a one-day BYOD Android coding workshop for absolute beginners aged 6-70 is not only possible, but rewarding and actually fun (if a bit chaotic).
All workshop materials are creative commons licensed, so if you want to have a go at running it yourself, you can.