QCon is a practitioner-driven conference designed for technical team leads, architects, and project managers who influence software innovation in their teams.
Mark Warren, Tweet
EMEA Marketing Director & Product Manager at Perforce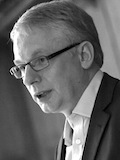 Mark Warren is EMEA Marketing Director and Product Manager. With over 25 years experience as a Development Manager using SCM and ALM tools and as a Product Manager and Marketer for development and ALM tool vendors, he is ideally placed to link real-world experience with the promise of technology solutions.
Many well-known SaaS vendors use Continuous Delivery to update production sites at mind-bogglingly short intervals and non-SaaS organizations are increasingly looking to CD to increase customer satisfaction and be more competitive.This session will review case studies by Perforce customers, including NYSE, CCP Games, salesforce.com and others, to identify key success factors and provide recommendations for starting, or accelerating, the adoption of CD in your organization.