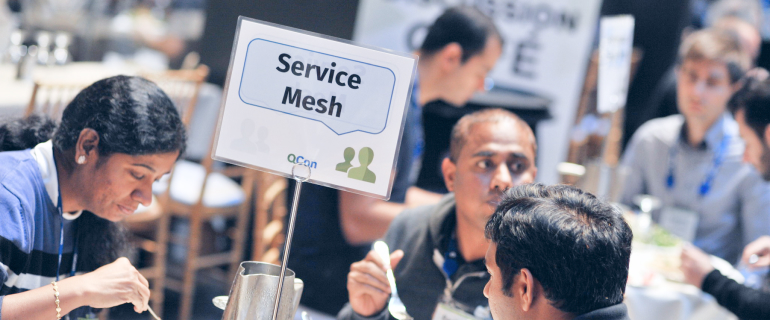 Lunch Topic Discussions
Eat, discuss, and learn! Join one of the Lunch Topic Discussion tables and share your insights and questions with fellow attendees. It's the perfect opportunity to take advantage of every minute of your time at QCon by connecting with peers who are working with the same tools, constraints and challenges you are!
Need inspiration for a project you're working on? Have an interesting insight to share? Looking for advice on how to solve a problem? 
This is an incredible opportunity to bring up anything you'd like to talk about! You can have unstructured conversations and debates around some of the major topics presented at QCon.
Be sure to check which day your topics are being discussed! Reminder emails and Slack messages will be sent out ahead of each session.
Topics we will be discussing include:
Monday
Architectures
Staff-Plus Engineer
Security
Platforms
Data Engineering
Tuesday
Architectures
Javascript & Front-Ends
Sustainable software
Observability & Debugging
FinTech
Wednesday
Architectures
Performance
AI and ML
Remote and hybrid teams
Productivity & DevEx
Lunch Menus for QCon London 2023
Enjoy a variety of healthy food choices, including gluten-free, vegetarian and vegan options - there's something for everyone - check the best options for you! Please note the use of provided hand sanitizer is required every time you approach a food station.  
Monday menu / Tuesday menu / Wednesday menu /
(Daily menus are subject to change).  V = Vegan, GF = Gluten Free
Monday, March 27th
Leek and spinach soup

V

GF

Roasted roots fattoush salad

V

Scottish confit salmon salad, with shredded mooli and carrots, Japanese rice, poke dressing

GF

Creamy mushroom, chicken and tarragon pie
Pan fried sea bream, ginger and garlic sauteed quinoa and sesame

GF

Tandoori cauliflower, spinach and potato saag aloo

V

Selection of breads (including gluten-free)

GF

Fairtrade coffee and tea with a selection of milks to include soya, almond, oat, semi-skimmed 
Tuesday, March 28th
Jerusalem artichoke with truffle oil soup 

V

GF

Roast chipotle chicken salad, with radicchio, roasted plum, tarragon vinaigrette

GF

Heritage beetroot salad, with red cabbage, cracked wheat, balsamic 

V

Chunky lamb chilli, brown rice, fermented black beans
Confit salmon with wild rice and confit turnips, leek veloute 
Wild mushroom stroganoff with tarragon cream, parsley potatoes 

V

GF

Selection of breads (including gluten-free)

GF

Fairtrade coffee and tea with a selection of milks to include soya, almond, oat, semi-skimmed  
Wednesday, March 29th
Carrot and coriander soup 

V

GF

Rice noodles, hispi cabbage, and charred broccoli salad, with sesame and soy dressing 

V

GF

Charred halloumi salad, with caramelised orange, chicory, honey mustard dressing

GF

Thai red chicken and coconut curry with jasmine rice

GF

Hake marinara with tomato, capers and olive sauce, thyme potatoes 
Bean and tofu chilli, brown rice and coriander

V

GF

Selection of breads (including gluten-free)

GF

Fairtrade coffee and tea with a selection of milks to include soya, almond, oat, semi-skimmed