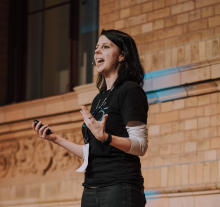 Speaker: Holly Cummins
She / her / hers
Quarkus Senior Principal Software Engineer @RedHat
Holly Cummins is a Senior Principal Software Engineer on the Red Hat Quarkus team and a Java Champion. Before joining Red Hat, Holly was a long time IBMer. In her time at IBM, Holly has been a full-stack javascript developer, a WebSphere Liberty build architect, a client-facing consultant, a JVM performance engineer, and an innovation leader. During her time in the IBM Garage, Holly led projects for enormous banks, tiny startups, and everything in between. Holly has used the power of cloud to understand climate risks, count fish, help a blind athlete run ultra-marathons in the desert solo, and invent stories (although not at all the same time). Holly is also an author and regular keynote speaker. You can follow her on twitter at @holly_cummins or at hollycummins.com.
Find Holly Cummins at:
Session
Wait, zombies? Really? Zombies are servers which aren't doing useful work. They're everywhere, costing money, eating electricity, and belching carbon. And they're useless! So how do we get rid of them? In this talk, Holly will explain how utilization and elasticity relate to sustainability.
Read more
Session
Sustainability has been deemed the greatest challenge of all time for many generations, yet, we have reached any substantial progress to defeat it. This is true across many industries, including the software sector.
Read more