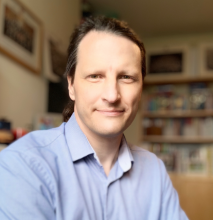 Speaker: Oli Bage
He / him / his
Head of Architecture, Data & Analytics @LSEG
Oli Bage is Head of Architecture for the London Stock Exchange Group (LSEG) Data & Analytics business, one of the world's largest financial data and analytics companies.  LSEG infrastructure powers the world's financial markets, including running the planet's second largest network and buying a lot of fintech start-ups!  In 2020 Oli founded and now co-chairs the Cloud Data Management Capabilities (CDMC) industry group of 100 systemically important banks and cloud technology companies, defining what 'good' looks like for data on cloud. 
Oli regularly hosts London Enterprise Technology (LNETM) meetups at the London Stock Exchange HQ in Paternoster Square, and is an angel investor in early stage emerging tech. 
Oli has worked in financial technology for 25 years and before joining LSEG, was a Distinguished Engineer in Morgan Stanley's Center of Excellence for Data.  Oli holds a degree in Computer Science from Cambridge University.
Find Oli Bage at: