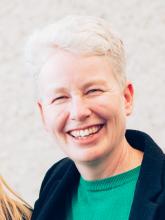 Track Host: Anne Currie
She / her / hers
Veteran Software Engineer & Startup Founder, Writer, Community Organizer for Green Tech, Leadership Team Green Software Foundation, & Author of SF Panopticon Series
Anne Currie has been passionate about sustainable tech for many years. She is part of the leadership team of the Green Software Foundation and is the co-author of "Building Green Software," O'Reilly's new book on the actions the tech industry needs to take to handle the energy transition.

She has long experience as an engineer, senior manager and startup founder and has been speaking and writing on the subject of efficient, futureproof, and sustainable systems since 2006. She is a co-founder of Strategically Green, a coaching and consulting firm driving green tech.

She is also the author of the 8 novels in the science fiction Panopticon series. 
Track
Fast, lightweight, secure, scaleable, cost effective, highly reliable, and green, as well as productive for developers. These days, efficient code has to tick a lot of boxes to be future proof. Is it possible to have it all?