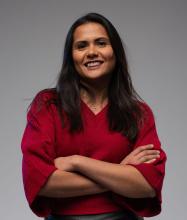 Track Host: Tanja Lichtensteiger
She / her / hers
Director of Product Engineering @BBC
Tanja serves as the Director of Product Engineering at the BBC, where she leads Software Engineering and Architecture for a diverse range of BBC Digital Products. This includes high-profile offerings like BBC News, Sport, iPlayer, Sounds, and Children apps, available on web, mobile and TV platforms, enriching the daily experiences of millions worldwide.
Tanja is a seasoned technology and people leader with over 23 years of software engineering experience across international IT sectors. Her expertise spans diverse industries, from broadcast and gaming to retail and education, covering startups to blue-chip companies. She collaborates closely with businesses to craft and implement strategies that drive meaningful change and sustainable growth through technology, delivering tangible results.
Tanja believes in Tech's positive impact and potential force for good on people's lives and our futures. She is a frequent public speaker and supports events, which encourage and motivate youth, women and minorities to get involved in technology. For her it is also about making an impact on Engineering Culture and helping people become better technologists and human beings.
Find Tanja Lichtensteiger at:
Track
In today's rapidly evolving tech landscape, leadership isn't confined to those with a traditional managerial background. This track delves deep into the heart of modern leadership practices tailored for the dynamic world of software engineering. Whether you've recently stepped into a leadership role, aspire to, or are merely curious about how to influence your projects and peers better, this track is your gateway to transformative engineering leadership.