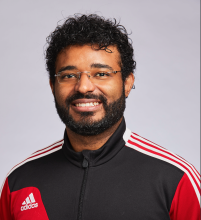 Track Host: Willian Martins
He / him / his
Web/Tv Eng @Netflix, @Devnaestrada Podcast Panelist, Former eBay, Foodora, @Tc39 Delegate & @mozTechSpeaker Member
Willian Martins has been involved in the tech industry since 2004, although he started working as a front-end developer in 2007. Despite having 15 years of experience in this field, he considers it to be more accurately described as three times five years of experience due to the constant changes in the front-end ecosystem.
Willian is currently employed as a TV and Web engineer at Netflix, having previously worked for companies such as eBay and Delivery Hero. He is also a former member of the Mozilla Tech Speaker team and a delegate of TC39. In his free time, Willian enjoys watching soccer and Formula 1, as well as playing video games.
Find Willian Martins at:
Track
Users spend most of their time interacting with the front-end and mobile applications, and it is through those iterations that an application shapes the user's perception. On this track, speakers will discuss how to leverage new frameworks and capabilities to create more flexible, faster, and engaging user applications.