We'll spend some time talking about traditional social product attempts from the lens of people in need. We will discuss if traditional for-profit businesses should worry about creating social impact. We will present a formula to build the foundations of how (almost) any product can create a positive social impact.
What's the focus of your work these days?
Mainly around software development training and helping people find a new career in the tech sector. Over the years I've been seeing the growth of the organization and I've had lots of different roles; nowadays I work with companies a lot and guide them on diversifying. This includes their hiring processes, finding new routes to attract talent that they they might not have the background with, and basically increase the set-up, layout and strategy for the growth of the organization.
What's the motivation for your talk at QCon London 2023?
Over the years at CodeYourFuture, I've been having loads of conversations with employees at many companies of all sizes; developing different types of software and services, and they come to us with the desire, with the idea of trying to make a difference in society, trying to improve the way that their companies work, trying to make it to become more inclusive. They all come with some general idea about what to do. But I've noticed over the years that many of them really could benefit from some basic framework to be able to implement and define and decide what changes they want to bring within their companies. At the same time, because they typically face this kind of change is difficult to implement. It requires a lot of discussion and a lot of alignment. It can become frustrating for people that really want to drive that change. Sometimes people believe, oh, maybe it's impossible because we have so many other priorities within our product development that we actually cannot implement any change. So the idea of this talk will be to set that path for senior employees at companies that if they really are committed to work towards bringing some change, that there are ways to do it without having to basically quit their jobs and having to want to do something completely different.
How would you describe your main persona and target audience for this session?
The target persona is going to be people that have a very strong motivation on social responsibility, on social impact. I think that's going to be the first level, people that are not satisfied with the way software is being developed or the way things are working within the tech industry. They have a certain motivation for change. In the ideal scenario, they will be senior managers. There are the heads of departments, heads of engineering that can influence the strategy that the company or the teams can go through. So those would be the ideal ones. But I always say that as long as someone has the right set of values, they know why they want to drive some change and will be able to support them with those internal discussions to carry on and make a difference and go in the right direction.
Is there anything specific that you'd like people to walk away with after watching your session?
I want them to walk away with a first general idea of an action plan in order to help the company decide what kind of change they want to bring within the social responsibility domain of the product development. I will want them to know to make an action plan on what is the change that they are to bring, how that could be possible and what resources they have available within their own company in terms of the product, in terms of the team that they're having, any other kind of resources available and then start having those discussions internally in order to help them understand, okay, what else do they need to do from there?
---
Speaker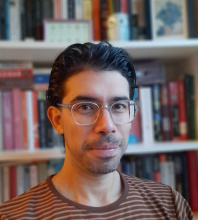 Germán Bencci
Founder of CodeYourFuture
Germán is the founder of CodeYourFuture, a community-led organisation changing people's lives by offering accessible training for people of refugee and low-income backgrounds, helping them start thriving software development careers. In the past, Germán worked in open innovation roles and has led artistic productions and fundraising campaigns. He holds degrees in Engineering and Literature.
Read more
Find Germán Bencci at: