Wait, zombies? Really? Zombies are servers which aren't doing useful work. They're everywhere, costing money, eating electricity, and belching carbon. And they're useless! So how do we get rid of them? In this talk, Holly will explain how utilization and elasticity relate to sustainability. She will also introduce a range of practical zombie-hunting techniques, including absurdly-simple-automation, LightSwitchOps, and FinOps. 
What's the focus of your work these days?
I'm part of the team that builds Quarkus. My particular focus is ecosystem, so thinking of making sure it's easy for libraries to integrate with Quarkus. Ecosystem means more than one thing, so as well as the people developing for Quarkus, I'm also looking at the environmental impact of Quarkus. Quarkus has a low machine footprint and competitor-beating throughput, so we've been investigating whether that translates to a low carbon footprint (it does!). 
What's the motivation for your talk at QCon London 2023?
There's a huge amount of waste in the IT industry. Some waste is unavoidable, but so much of it is fixable. It's not just fixable, it's easily fixable. It's silly waste that is caused by forgetfulness, bureaucracy or inappropriate priorities. Because our industry has such a big carbon footprint, this waste isn't something we should be living with. 
How would you describe your main persona and target audience for this session?
Anyone who's involved in provisioning machines or deploying workloads will find the talk interesting. That's almost all of us, in one way or another. Even if we're not involved in the ops side, we're creating containers, making clusters, provisioning cloud test environments … and then forgetting to shut them down. Plus I have zombie pictures, which I reckon makes the appeal almost universal. (I promise the zombies are cute, not Last of Us grim.) 
Is there anything specific that you'd like people to walk away with after watching your session?
Climate is a big and complex topic, and a lot of us can feel powerless. But we're really not. For all of us, there are simple things we can do which save our organisations money and reduce our carbon footprint. The best thing is that these aren't sacrifices – they're optimisations that carry a whole bunch of benefits. 
What's something interesting that you've learned from the previous QCon?
Last year I heard about "helpful null pointer exceptions" for the first time (new in Java 14), and it made me so happy. 
---
Speaker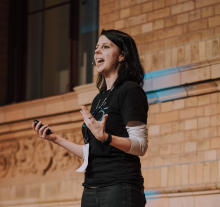 Holly Cummins
Quarkus Senior Principal Software Engineer @RedHat
Holly Cummins is a Senior Principal Software Engineer on the Red Hat Quarkus team and a Java Champion. Before joining Red Hat, Holly was a long time IBMer. In her time at IBM, Holly has been a full-stack javascript developer, a WebSphere Liberty build architect, a client-facing consultant, a JVM performance engineer, and an innovation leader. During her time in the IBM Garage, Holly led projects for enormous banks, tiny startups, and everything in between. Holly has used the power of cloud to understand climate risks, count fish, help a blind athlete run ultra-marathons in the desert solo, and invent stories (although not at all the same time). Holly is also an author and regular keynote speaker. You can follow her on twitter at @holly_cummins or at hollycummins.com.
Read more
Find Holly Cummins at: