A challenge to any leader and manager who wants to develop an engaging and best practice to working with hybrid and remote teams. Including a self-audit on current practice, skills, mindset, and a framework to support leaders and managers to get the best from their teams. This session will get you to review what's being done well, and take away what could be even better in our brave new world.
What's the focus of your work these days?
We work with leaders and managers in the tech sector to think about things like mindset when it comes to this brave new world of hybrid working, remote working, impact on teams and the types of skills and behaviors that our leaders need to be thinking about and demonstrating to make sure all their teams in the workforce remain engaged, productive, happy and motivated. It sounds really simplified when you put it that way. But it's actually a different working environment, whether that's a flexible hybrid, four-day working week, five day, whatever the combination is these days, we have to do this and are expected to manage. 
We have to understand that we need to dial up certain capabilities in our management tool kit, and that's not always really obvious, especially if we're quite technical by nature as well. So enabling people to understand their own impact on their teams and what the skills, knowledge and behavior sets are that they need with their teams, is exactly the type of work that we do.
What's the motivation for your talk at QCon London 2023?
It's all about self-awareness as a leader. We need to get people to think about their own biases and what they prefer, and also what that means in terms of their leadership style. Some leaders and managers naturally prefer to have a more traditional approach, perhaps being in a project room or an office or collaborating, bouncing ideas around on-site, face-to-face with the client, with the team, whatever that might be. Some managers will prefer to do things more remotely and use collaboration tools, whiteboards, and digital technology. Some will be okay in between. 
The important thing is to really understand what you are doing that supports other people and what you are doing for yourself. Are you being flexible and flexing your own styles when it comes to the needs of your clients and teams? When it comes to project software or whatever it might be? We're in a sector where we've got an opportunity to really role-model digital collaboration tools and techniques in leadership and management. So it'd be great to engage with that audience to get them thinking about these things.
How would you describe your main persona and target audience for this session?
I think about the clients that we currently work within the sector. They tend to be quite technical leaders and managers; people who are highly educated, very smart, very good at technical and detailed working, problem-solving and understanding what that means from a technical competency perspective but may be on a journey when it comes to understanding what great leadership and management look like. 
You might be in a leadership role for a long period of time, but things change so quickly. I don't mean changes in the software or a project management perspective. I mean generational change; such as what different people need from their leaders and managers in the workplace. So, anybody who's a senior leader, anybody who's got influence over people in teams, whether you're a senior project manager, you're a chief architect, anything in between really understanding and how to get the best out of your people, if you're interested in that.
Is there anything specific that you'd like people to walk away with after watching your session?
Self-audit where you are in terms of your mindset when it comes to your leadership and management space in this hybrid remote working environment. What do you prefer and how does that play out? Does that meet the needs of your team members and your clients or customers? 
What are the small changes that you can start to make, whether that is mindset or skill set that's going to make everybody's life a little bit easier because we're all up for that, right? 
---
Speaker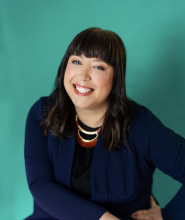 Erica Farmer
Co-Founder and Business Director @Quantum Rise Talent Group Ltd
Erica is a successful female founder and consultant, with over 20 years' experience delivering high impact learning and development solutions in some of the UKs largest brands, such as LV=, British Gas, Specsavers and Virgin.
She works with leaders and managers in all sectors to build a modern skills toolkit to support hybrid and remote working practices.
Erica also sits on various boards advising on the future of work and learning, focussing specifically on the opportunities which learning technologies can bring.
More recently Erica has become a LinkedIn Learning Instructor and TEDx talks speaker. View her latest TEDx talk here.
Read more
Find Erica Farmer at: